The main purpose of the water filling line is system is that it fills pure water in the bottles. The water may be mineral or other sugarless liquid refreshments in plastic bottles.
Parts of water filling line system
Water Treatment System

For the purification of water, water treatment systems are very helpful. It uses the process of filtration, chemical, and non-chemical materials to remove bacteria and other contaminants from water. Water present in lakes is treated less and safe for drinking purposes. Water softeners are also used for removing the hardness of water. If you want to enhance the life span of water treatment systems, proper maintenance is required.
Blow Molding System
It is a process in which plastic parts are made and joined to attain the desired shape. It is also used to make glass bottles. This system has a hole at one end so that the compressed air can pass. By using blow molding you can not only make bottles but also you can make toys, coolers, etc. It is not very costly. Containers with exterior threading require blow molding techniques.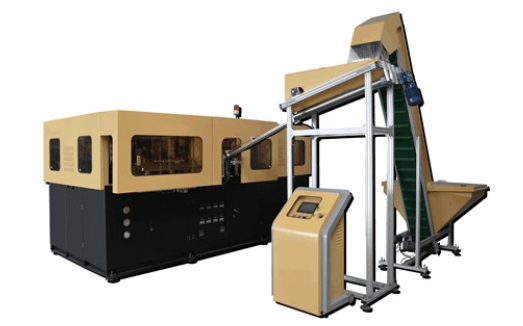 Filling System
The filling system has a kind known as an automatic water filling system. The problems faced back then by the workers are now resolved by this system. For instance, by using this system we can top the battery in only three minutes whereas, manually it takes thirty minutes. This system has handling ability and very efficient in use. It is very easy to use and a huge water saver.
"Conveyor" as the name shows it conveys materials from one point to another. The materials that are heavy and bulky in appearance are lifted by using conveyor. It is very speedy and efficient in moving materials. This system is convenient, cheaper, more efficient and durable.
Labeling System
The main function of a labeling system is to label the name or the location of the company and which material is present in the bottle. There are three kinds of labeling machines:
These systems require manly power. Small scale industries use these types of systems because of the low budget. These are not very costly.
Semi-automatic labeling machines
In this type of water filling line system, small amount of manual work is required. And all other work is automated. These water filing line systems are affordable.
All the work is automatic. There is no need for manual support. It is used in high level and established industries.
Packaging System
This is the last technique of the water filling line system. It is of different types depends upon the weight and size. For liquids you cannot use paper bags, plastic or glass bottles can be used. Different machines are available in the market.
I hope the above information will help you out in finding your desired needs. Here is everything you need to know about the water filling line system. In case of any ambiguity feel free to ask.